Before you know it, the summer BBQ season will be here! Here are some must-have purchases…
Of course, the only place to begin is with any big changes that need to be made to your home. If you don't have a patio area built already, this is where you need to begin, and you need to start fast! Check out Renewal by Andersen French Doors for a stunning collection of patio doors to help you get started.
But, if a new patio is out of budget, you can turn your lawn into a killer summer BBQ space. Here are the two things you need to ensure guest comfort.
Don't overlook these options for BBQ season (even if you don't have a patio)
1 – Buy a gazebo that can easily be erected and put down
Now that you have set the scene, there are some purchases to make! Firstly, you need a gazebo. There are those who have one handy at home for use in their garden during the summer or to provide some shelter whenever they have a party.
There are several different uses for a pop-up gazebo. The reason why you require yours will determine what type you purchase. In this case, you need one for summer BBQ parties, and so buying from a home store is most advised.
The next thing you need to consider is the size of the gazebo. This is extremely important for those who have limited ground space, for instance, a small garden. What you need to do is quite simple. Measure the space you have and make sure the gazebo fits inside. It is as easy as A, B, C, but it is something that a lot of people tend to overlook and simply forget about.
Gazebo and sun canopy styles
Do you have a color or style in mind? The way your sun canopy looks is important. After all, you are making an investment, don't you want your money to be spent on something that looks good? Again, the decision regarding style is something that depends on the purpose of buying the gazebo. For example, if you are buying the gazebo for personal use then you will want something that matches in with your own taste as well as the style of your garden.
Ticking the practicality boxes is important as well. The last thing you need to do is make sure the pop-up canopies you are considering tick the boxes when it comes to providing you with the practicality you require. The importance of quality cannot be underestimated. Imagine how bad it would be if you were hosting a summer BBQ for all of your friends and the wind blew your gazebo over! Thus, make sure the product you are contemplating is wind resistant, weighs a considerable amount and is robust as well.
If you take all of the four points mentioned into account then you should have no issue finding the perfect pop up gazebos for you. Remember, you must consider purpose, practicality, style, and size if your purchase is to be a successful one.
2 – Buy seat pads now in preparation for your summer barbeques
Now that everybody is looking forward to the summer months ahead. And when summer comes and the sun is shining there is simply nothing better than enjoying a barbeque in your garden area. You can invite all of your friends around, eat scrumptious food, sip refreshing cocktails or wine, and catch up on everything that has been happening. This certainly beats sitting indoors shivering whilst the rain and snow is heavily falling outside, doesn't it?
Nevertheless, before you even think about hosting your friends and families for barbeques throughout the summer, you need to ensure you buy seat pads for the chairs you have on your patio space. This will not be a difficult challenge. After all, with internet shopping booming nowadays all you need to do is go online to be met with a wealth of different seat pads. These all differ substantially with regards to price, material, style, color, and quality. Thus you should enjoy the shopping experience. Take the time to browse all of the different websites and find chair pads that you love and that will look perfect placed on top of your patio chairs.
Why you should offer seat pads…
You want to be sure your guests are comfy throughout summer BBQ season. And nobody likes sitting on a hard seat!
The importance of buying seat pads is something that should not be underestimated. After all, the last thing you want is for your guests to feel uncomfortable when they come around for something to eat. You may think that your seats are fine without pads, but people have different levels of comfort and therefore it is much better to have chair pads available.
In addition to this, whilst chair pads are great for practicality and comfort, they are also fantastic when it comes to adding style and color to your outdoor area. As mentioned, there are lots of different designs available. You can opt for the popular vintage style pads; there are also checker designs, polka dots, and a wealth of other exciting patterns. These add personality and energy to your garden space. Not only this, but you have the perfect opportunity to add a pop of color too. Patio areas usually lack color and liveliness, yet chair pads ensure that this is not the case.
And last but not least, most seat pads are extremely easy to look after. All you need to do is remove the cover and pop it into the wash in order to ensure that it looks as good as new. Therefore, you can rest assured that chair pads are easy to main. After all, there is always the risk that someone could spill a bit of their burger on the fabric! Thus, chair pads are a lot better than alternatives, such as chairs with padding permanently stitched onto them.
The Takeaway: It is time to make those essential purchases for summer bbq season
If you are looking forward to hosting summer bbq parties, then make sure your guests enjoy the occasion as much as you do by purchasing chair pads. After all, nobody wants to spend hours on end feeling uncomfortable. Not only this, but you can make your garden look a lot better too with this simple yet beautiful type of accessory.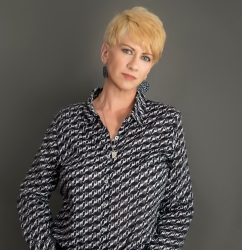 Latest posts by Deborah T
(see all)