But don't worry, this soap is special for her and it's a perfect reminder of how much you love her- every time she washes her hands.
Handmade soaps are a luxury item that always show up in boutique shops and gift stands. Often, they have hefty price tags and alluring appeal. But in truth, it's actually very simple to make your own.
Mother's Day is the perfect time to try your hand at soap making to make something both beautiful and useful for your mom's gift. This design, of a suspended heart, can silently say: "I love you" whenever she uses it.
RELATED POST: Candle Making Step By Step: Mother's Day Candle Gift Set
Step One: Gather the Goods
Step one is to prepare your supplies. There's a bit of overhead in getting some of the items. But most of them will last over several batches of soap. That means you can make more bars for gifts in the future.
You can find most of these item at your local craft store. Or you can order them online. The necessities are soap base, molds, and dye.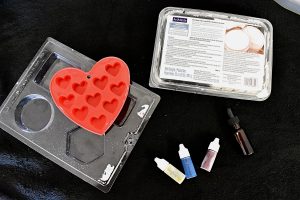 Soap base is already soap, just sold in a big brick with none of the fancy color or scent of the handmade bars you'll be gifting when you're done. Personally, I recommend avoiding the plain white or clear base. That's because those don't seem to be as nice as getting shea butter, olive oil, or goat's milk base. A two-pound container (usually the smallest available) runs around $10. This will make about 12 bars, depending on the size of the molds.
The molds for this particular design will require both the base mold (a square, diamond, or circle shape like a regular bar of soap) and an accent mold (the heart in the center). You can use these molds over and over again for future endeavors.
The dye is what will change your base from plain white to any range of shades. They typically come in packs of three different primary shades. Pick the trio you think will produce the best colors for your mom. Consider using her favorite shades or spring hues for the season.
Additionally, you will also want a scent, sold with other soap making supplies, and packaging. Consider getting a small box to set your bar into or butcher's paper to wrap around it.
Then, from your kitchen, you'll need a microwave-safe container, a knife, and something to mix with (spoon, stir stick, etc).
Step Two: Prepare the Accent
For this design, you have to make the two parts of the bar separately. First, you'll make the miniature accent bars in the heart mold that will later be set into your full bar.
To do this, gather all of your materials around the microwave because there's a bit of a steady pace this runs at once you've started.
Cut a small chunk from your soap base and place into your microwave-safe container. Before you start melting that down, you're going to want to set your scent right beside you and the mold nearby. Once you melt the soap, you'll quickly add 3-4 drops of your scent, and pour into the mold.
Once you're ready, stick that bad boy into the microwave for 20-30 seconds. Each 30 seconds, stir the soap for several seconds. Towards the end when there's only a few chunks, just stir and stir and they might melt in. You don't want to over microwave the soap.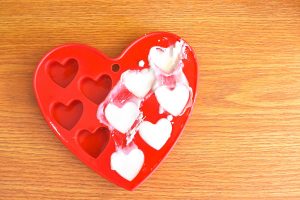 Once melted, add the scent oil and stir. Then, pour into your mold. Don't worry about making the tops look perfect, the bottom will become the top in the end!
Then, set that carefully aside and let harden. It will take 30-45 minutes.
Step Three, Part 1: Prepare the Bar
Once again, you need some prep before melting things down.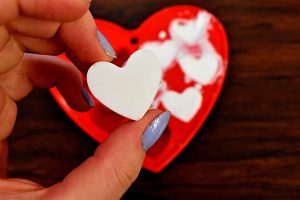 First, pop your accent bar out from its mold and carefully set aside near the microwave. Place your main mold (the squares or circles) beside that. Take a mini heart and place nice side down into the mold. Press it so it's firmly flush to the plastic of the mold. You don't want any of the melted soap base to be able to sneak beneath it.
If the bar mold is small, I'd suggest centering the heart right in the middle. For a rectangular one, maybe place two side by side. Be creative with your placement, that will build the design.
Then, grab that colored dye. I chose to blend red and blue to make a soft lilac for my bar. Pick your color and have those out with the scent oil.
Once ready, cut out a chunk of your soap base, four cubes of the ArtMinds soap I use will make about one bar (of a standard mold, similar to mine). For the very first try, I'd use one bar's worth. Plop that bar into your bowl and head to the microwave.
Like before, run the microwave for 20-30 seconds at a time and stir in between each. Try to scrape down the sides and melt it all down.
Step Three, Part 2: Final Touches
Once it's liquid, add your scent and your color. Add the color in 2-3 drops at a time and stir before adding more. Then, pour carefully into your mold from the outer edges until it's fully covered the heart accent inside.
If you pressed the accent in firmly enough, then it will hold its shape inside the main bar, leaving a perfect heart within the colored bar. Set that aside and let it fully harden for an hour or more. If you're not sure if it's hard yet, leave it longer.
Step Four: Finish and Package
Once your bar is hard, you're done! Now you just have to package it up and gift it! If you want to keep the bar on display, just wrap in some plastic so it shows through. Then gift wrap as you'd like.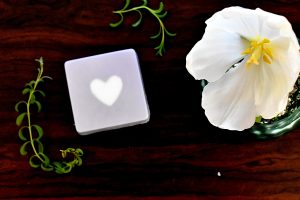 Otherwise, you can embellish the bar itself with a sprig of a complimenting herb (lavender, spearmint, etc) to the scent you added or a bit or ribbon and place within a box. To add to this gift, buy a soap dish to place it on before boxing it up so it has a home once you've gifted it over.
And that's all! A handmade, heartfelt gift that just takes a couple hours and less than $20 but will give your mom something she can certainly use because who doesn't need soap?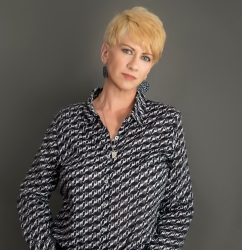 Latest posts by Deborah T
(see all)