Sourdough biscuits offer a tangy, rich alternative to an everyday favorite recipe.
However, most sourdough biscuits–even the drop biscuits variety–require a long time for the dough to rise. Frustrated with the long wait time, I set out to find a fast-rising solution. After much trial and error, I developed this recipe, which my native North Carolinian husband declared the best biscuits he ever had.
Ingredients for Sourdough Biscuits
Perhaps the best thing about this recipe is this–it tastes decadent but does not require too many ingredients. You can toss these in a mixing bowl and pop them into the oven in just a few minutes. Here are the four ingredients.
Sourdough starter:
Check out the DIY Home & Garden sourdough starter. It's easy to make. One caveat, you must make it several days before you bake these biscuits. So you need a little advance planning.
Butter:
Not margarine. Butter. And this must be directly-from-the-fridge cold. You will use a grater to grate this into the recipe. As the butter melts during baking, it leaves small, airy pockets for a pleasing texture and imparts a rich, buttery flavor.
Self-rising flour:
Instead of regular all-purpose flour, you'll need self-rising flour. This ingredient cuts the rising time down to nothing.
Milk:
I used two percent milk, as the butter and sourdough starter are rich. The main thing you need here is the additional moisture to the dough. So if you want to play with other milk or cream, feel free!
Supplies You'll Need to Make Sourdough Biscuits
Here are the kitchen tools you need to grab before you bake:
Baking sheet: I prefer stoneware for the even heat and browning, but any kind will work.
Glass mixing bowl
Grater
Wooden mixing spoon
Tablespoon for shaping and dropping the biscuits
Tongs or a spatula for moving the biscuits once baked
https://www.pinterest.com/pin/520447300700263359/
Recipe for Sourdough Drop Biscuits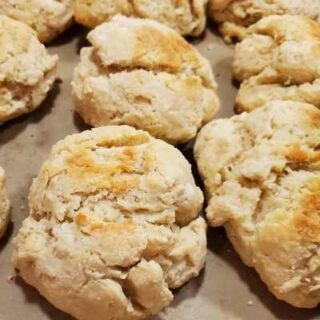 Fast Rise Sourdough Biscuits
These sourdough drop biscuits are moist, airy, and buttery. Swapping out traditional baking flour for self-rise flour makes it a fast-rise recipe for busy days.
Ingredients
3/4 cup of sourdough starter
2 cups of self-rising flour
1/2 stick of cold butter, straight from the refrigerator
1/2 cup of 2% milk
Instructions
Preheat the oven to 400°.
Add the sourdough starter, self-rising flour, and milk to a glass mixing bowl.
Use your kitchen grater to grate the butter into the same mixing bowl. Don't skip this step--this gives the biscuits the light, airy, texture, and buttery flavor. As you bake the biscuits, the butter dissolves, leaving heavenly little air pockets.
Use a wooden spoon to combine all the ingredients, until everything is moistened. Do not overwork the dough, as you do not want to melt the butter.
Using a spoon to scoop and lightly shape the biscuits, drop them onto an ungreased baking sheet (I used a stoneware cookie sheet).
Bake the biscuits for 20 minutes. The bottom of the biscuits will have a lightly browned bottom. Use tongs to gently flip the biscuits and bake them top down (to brown the tops) for 10 minutes.
Remove the biscuits and serve them while hot--they are best served fresh. If you don't use them right away, plan to reheat them before you eat them.
The Takeaway: These Sourdough Biscuits Are a Taste of Heaven
Give these heavenly sourdough drop biscuits a try as soon as your sourdough starter ripens. You will love the soft texture and delicious flavor. But best of all, you will love how quickly you can get this recipe mixed and into the oven. Your home will smell so good!
If you try these sourdough biscuits, please connect with us to let us know how they worked out for you. We always love to hear from you. Until the next time, have a happy DIY day.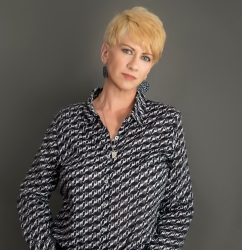 Latest posts by Deborah T
(see all)