When you see these exterior painting before and after photos, you will see how a weekend with a paintbrush can transform the look of your home. In fact, painting the exterior of your home can add curb appeal, add value, and increase the desirability of your neighborhood.
RELATED POST: Five Eco-Friendly Home Improvements
Curb appeal is very important. If your home looks shabby on the outside, people will make assumptions as they pass by. You may love your home and have the cleanest, neat as a pin home on the inside. But people will assume that your home is not cared for. When the day comes that you must sell your home, that can mean less money in your pocket!
Exterior painting is a wonderful DIY. With an investment in brand name exterior paint (don't skimp on cheaper paint), good quality brushes, and your time you can transform the outside of your home.
Even if your home is built of a material that doesn't need painting, such as brick or vinyl siding, you can freshen up your front door, shutters, porch railings, and trim to get a fresh, clean look. However, even outdated bricks can benefit from masonry paint, as shown in the photo below.
Exterior painting can make a complete transformation. I have saved my favorite exterior paint makeover for the last photo.
The home, above, is completely transformed. This appears more than a weekend project. This home probably needed extensive scraping and prep work. But the very traditional home is gorgeous in denim blue. The simple white and black trim work makes the blue the center of attention. Now, this is a house that looks like a home!
Don't be afraid of exterior painting. It's really no different than painting the inside of your home. Yes, you use exterior paint which is a little different in texture. But the principle is the same. Prep work, paint, enjoy!
Painting the exterior of your home will give you a feeling of being a very proud homeowner every time you see your home!
Have a happy DIY day!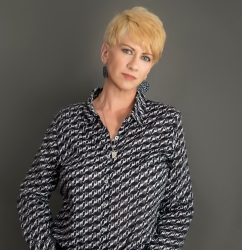 Latest posts by Deborah T
(see all)