Dill (Anethum graveolens) is an annual self-seeding herb in the celery family Apiaceae and is found throughout Asian and European cuisines. Also referred to as dill weed, the plant features slender stems with feathery foliage and light-brown, pungent, oval-shaped seeds.
The whole plant is exceptionally fragrant. In fact, the seeds and leaves are most commonly utilized as seasonings, though the flowers are also edible. Besides culinary use, this classic herb nourishes the body with micronutrients believed to offer relief from specific ailments, including bad breath, digestive issues, and colic in infants.
Frequently Asked Questions About Dill
This guide takes you through the plant's growing and care needs and the answers to some of the commonly asked questions you may be interested in.
What is dill used for?
Dill is commonly used as a food spice but has also been embraced in the cosmetic and medical space—mainly for its fragrance and medicinal properties.
Can I eat dill raw?
Yes, you can eat it raw. The flavor is usually mild—meaning you can even use it raw in salads or dressing without it overpowering the rest of the ingredients.
Do you wash dill before using it?
Yes, you need to wash all herbs before use, but only the amount you intend to consume right away. Dill plants have fronds (soft little tendrils)—in place of leaves—which can easily break or get bruised during cleaning, therefore reducing the herb's shelf life.
Can you eat too much dill?
You can generally eat as much as you wish. But of course, it can be harmful if taken in excess amounts like anything else. It may lead to diarrhea, vomiting, urticarial tongue, itchy mouth, throat swelling, and other allergic reactions on rare occasions.
Is dill healthy to eat?
Yes. Fresh dill weed is low in calories and an excellent source of numerous essential nutrients, including manganese, vitamins C and A, calcium, magnesium, and iron.
A cup of fresh sprigs (about nine grams) offers approximately:
Protein: 0 g

Calories: 4

Saturated fat: 0 g

Fat: 0 g

Sodium: 5 mg

Fiber: 0 g

Sugars: 0 g

Carbohydrate: <1 g
One cup also provides 8% of your daily value (DV) for vitamin C, 5% manganese, 3% folate, 3% iron, and 4% vitamin A.
From a tablespoon (3 g) serving of dried dill, you get the following benefits:
Calories: 8

Fat: 0 g

Carbohydrate: 2 g

Protein: <1 g

Sugars: 0 g

Sodium: 6 mg

Saturated fat: 0 g

Fiber: <1 g
What are the health benefits of dill?
Dill weed is rich in antioxidants—naturally occurring compounds that protect cells against potential damage by free radicals. Both the herb's leaves and seeds contain compounds with antioxidant properties, which include:
Terpenoids: They're mainly found in essential oils; may protect against kidney, heart, brain, and liver diseases.
Flavonoids: These may play a vital role in brain health and have been linked to a reduced risk of stroke, heart disease, and various forms of cancer.
Tannins: Tannins are responsible for bitterness in most plant foods, tannins are believed to cure metabolic disorders and hinder the onset of various oxidative stress-related diseases.
This kitchen herb is also loaded with antibacterial properties, which can help fight potentially harmful bacteria like Staphylococcus aureus and Klebsiella pneumoniae.
The calcium, phosphorus, and magnesium elements in this plant work to support bone health. Some people also attest to the beneficial effects that dill essential oil has on menstrual cramps, though there is limited research about this.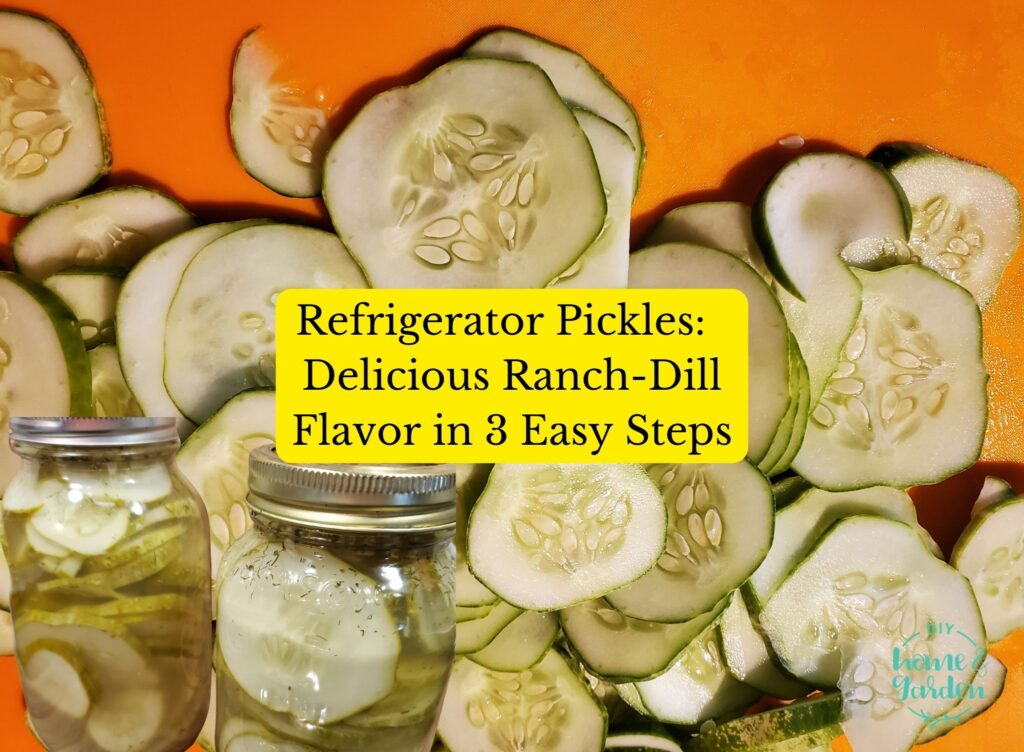 Is dill good for kidneys?
Dill's antioxidant properties help shield the kidneys from the harmful effects of free radicals. It also boosts strength and urination to aid the expulsion of toxins, excess water, and salt from the body, courtesy of its diuretic property.
What herb can replace dill?
There are several substitutes. But the seven common and readily available are chervil, basil, fennel, rosemary, parsley, thyme, and tarragon. Remember, you can also substitute dried for fresh during the off-season
What tastes similar to dill?
Tarragon. Tarragon smells and tastes similar. However, it's a bit more resilient. In other words, you can add it to your cooked dishes earlier on than you would with dill.
What food goes well with dill?
Fruit and vegetables: Broccoli, beetroot, avocado, asparagus, apple, cauliflower, carrot, cucumber, corn, celeriac, green bean, kohlrabi, horseradish, radish, spinach, mushroom, sugar snap peas, potato, lemon, cabbage, pumpkin.
Protein and other foods: Bulgur, veal, barley, beef, mayonnaise, lamb, mustard, couscous, quinoa, egg, tempeh, salmon, tofu, ocean trout, and yogurt.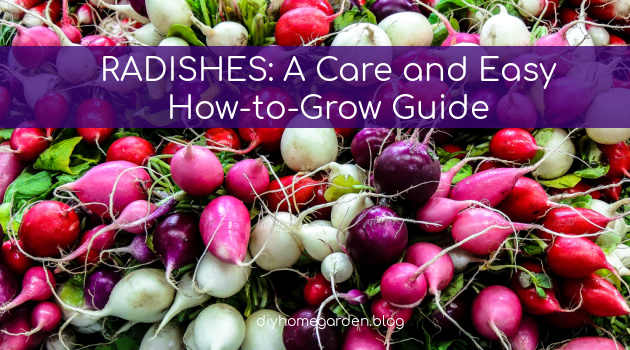 How do you use dill seasoning?
You can use this herb to season lovely homemade dips, season fish and oven-roasted potatoes; spice up fresh vegetables for roasting, or add to your Mediterranean chickpea salad.
How do you know if fresh dill is bad?
Whether you're purchasing or harvesting from your garden, fresh, healthy dill should be bright with non-discolored unwilted leaves. Discoloration, softness, or an off-smell sign that your harvest could be going bad.
How do you store fresh dill?
You can store freshly harvested herbs by refrigeration or freezing. However, consider drying it in your dehydrator for long-term storage.
How do you use leftover dill?
You can use leftover dill in your savory breakfasts, salads, and other dishes. Below are a few great recipes to explore as you put your leftover weed into use.
Salmon sandwich

Cucumber salad with lemon vinaigrette

Yogurt sauce

Lemon dill rice

Peas with dill and scallions

Potato salad

Dill pickle dip. This recipe requires only four ingredients, see the recipe card: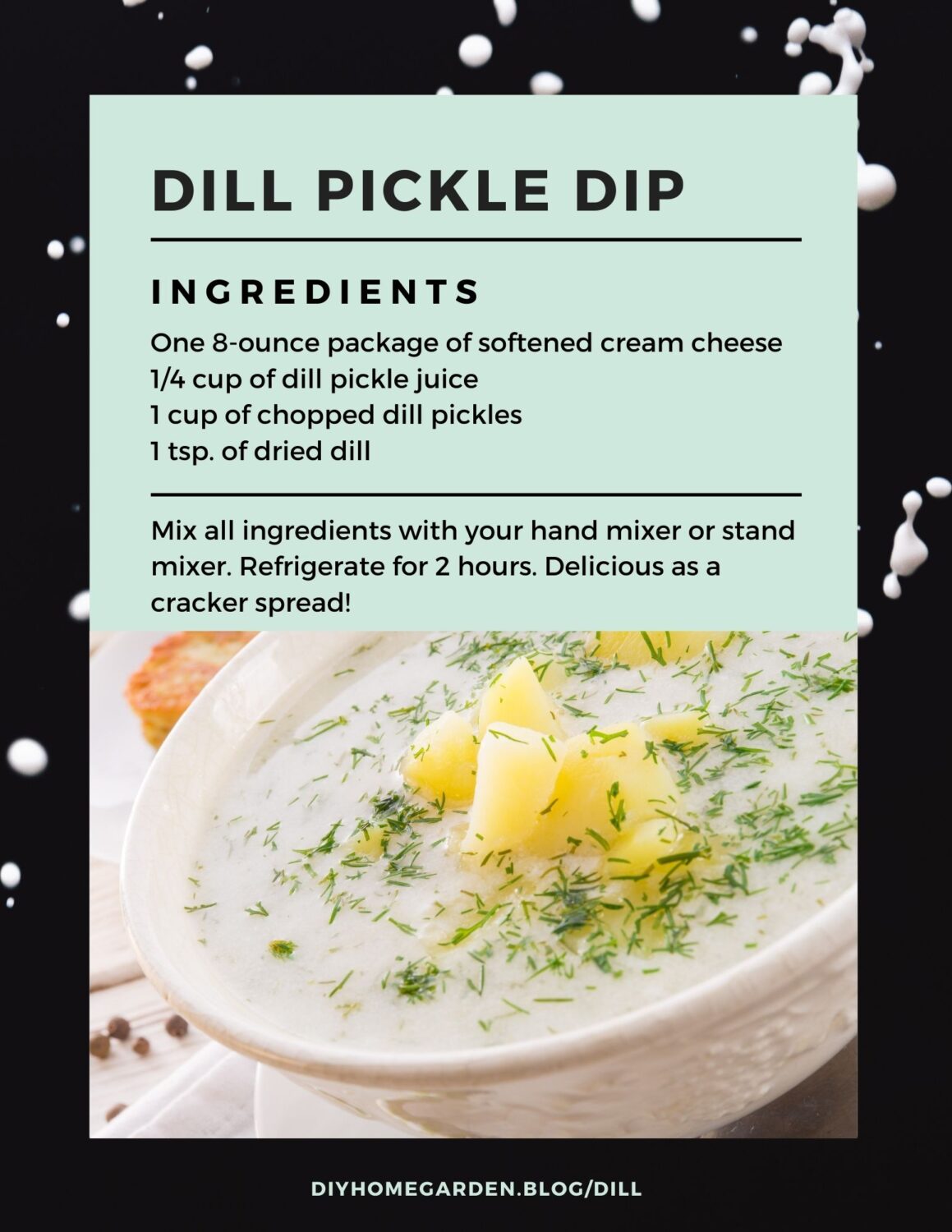 Is dill the same as fennel?
No. Although these herbs look alike and even belong to the same family—Apiaceae—fennel and dill are two different herbs. While fennel is entirely edible, you can only eat the dill weed's leaves, seeds, and flowers. Also, fennel leaves are longer with a solid licorice flavor than dill leaves.
How do I plant dill in my garden?
For best results and increased chances of success, consider directly planting your seeds. This herb has a taproot. When transplanted, it tends to bolt immediately—that is, if it survives death.
How to Grow Dill in Your Garden
Plant the seeds after all frost danger passes in the spring when the soil temperature gets to 60-70°

F.

The soil should be rich, loose, well-draining, and slightly acidic to neutral. Consider working in mature compost into the ground.

Ensure the location receives at least six to eight hours of sunlight a day. For hot climates, offer an afternoon shade.

Germination should occur in ten to fourteen days. Thin the seedlings to about twelve to eighteen inches apart to allow for adequate growth room.

For a consistent supply into the fall months, sow seeds every couple of weeks until mid-summer.

Strong winds are a problem for this tall and thin herb, so offer them shelter when the wind might batter them.
Caring for Your Dill Plants
Water the herb freely during the growing season to keep the soil consistently moist.

Never allow the soil to dry out completely before the next watering, which may trigger the plants' premature bolting to seed.

No additional fertilizing is required, especially for organic matter-rich soils.

This classic herb is very cold-hardy. Therefore, it will even survive temperatures as low as 25°

F.

Begin harvesting as soon as the plants develop four to five leaves by pinching or cutting off (with scissors) the older leaves first.

For an extended harvest, do not allow the plants to flower.

This herb is generally problem-free except for the occasional root and fungal leaf diseases—mainly leaf spot.
To prevent such problems, avoid leaf-wetting and ensure you don't pile a heap of mulch around the plants as that may lead to root rot.
Varieties You Can Grow
Here are four of the most popular variations:
Ferleaf: It is

a dwarf variety growing less than eighteen inches. This variety is i

deal for containers.

Mammoth: This type f

eatures attractive, finely cut leaves.

It's a tall variety, growing 36 inches or more.

Dukat: This

is a common variety known for its abundant leaves.

Bouquet: It

is a more enormous variety and produces abundant seeds.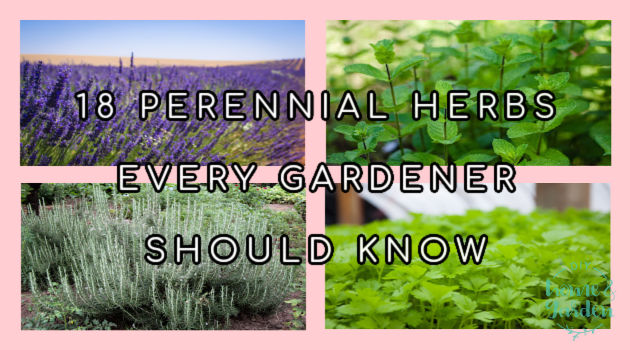 The Takeaway: Dill Is More Versatile Than You Imagined
Dill is a relatively low-maintenance herb—asking for less yet giving more in return! It's an easy herb for beginner and adept gardeners, especially if you want to expand your homegrown spice collection.
Just keep in mind that this herb self-sows. And so, for easy management, consider having a dedicated dill weed bed or consider planting it in a large pot.