Chives (Allium schoenoprasum) are low maintenance, easy-to-grow, grass-like perennial herb, belonging to the onion family—even though milder in taste than onions. It's a versatile plant; not only used in the culinary space but also as an ornamental feature in the garden.
From edging paths and borders to attracting butterflies and other beneficial pollinators, this herb can as well be used to discourage the presence of destructive insects such as Japanese beetles from a vegetable or herb garden.
A Few Fun Facts About Chives:
| | |
| --- | --- |
| Common name | Common chives |
| Mature size | 10-13 inches tall and wide |
| Sun exposure | Full sun, light shade |
| Soil pH | Slightly acidic to neutral |
| Soil type | Sandy, loamy |
| USDA Hardiness zones | 3-9 |
| Bloom time | Early summer |
| Flower color | lilac purple |
Frequently Asked Questions About Growing Chives
Here are a few of the most often asked questions gardeners ask Google about this tasty herb.
What is the difference between chives and green onions?
It's easy to differentiate the two by just looking at them.
Chives are much smaller and delicate, with no substantial bulbs. You'll always find them sold next to thyme, basil, and the other herbs—in small boxes—in the grocery store.

Green onions are green at the top but have white bulbs with roots at the ends. At the grocery store, you'll find them in the produce aisle, near large bunches of Italian parsley and cilantro.
What are chives used for?
Their milder flavor makes them a great addition to dips, soups, fish, baked or mashed potatoes, seafood dishes, and omelets.

The purple flowers also attract bees and beneficial pollinators—but at the same time—can be used to discourage destructive insects like the Japanese beetles.

Still, it won't let you down in your floral arrangements project. The large, puffy purple flowers are a beautiful addition to any bouquet.
How do you eat garden chives?
Chives can be eaten raw but you may want to add them to your favorite dish. Wash thoroughly with cold water before use. Heat destroys the delicate flavor, and so, add it to your dishes at the last minute. Maximize their taste by thinly slicing, chopping, or snipping with kitchen shears before use.
What part of chives do you eat?
Gardeners mainly grow the herb for the edible leaves but you can also eat the flowers.
What can I do with fresh chives from my garden?
Chive is a versatile herb; you can use it to top a baked potato, garnish creamy soups, season fish fillets, make flavored butter, make a salad, cook up eggs, or even in a creamy pasta sauce. If for any reason, you don't utilize all your freshly harvested herbs, consider preserving them for later use.
Are chives in the same family with onions and garlic?
Yes. Onions, garlic, and chives belong to the allium family.
Are scallions and chives the same?
Chives are flowering green plants classified as herbs. They have long, extremely slender, solid green tender stems with light purple flowers while scallions (also known as green onions) exhibit a thicker, more sizeable stem that is white at the base and green upwards.
Do chives have a bulb?
Similar to onions, they have a bulbous root from which they sprout beneath the soil, creating a larger clump over time.
How do you harvest chives to keep them growing?
Harvesting chive leaves: Use garden shears to clip the leaves, cutting 3-5 cm above the soil. Be sure to clip the leaves from the plant's outer portion first, taking care not to clip the entire plant at once.

Harvesting chive flowers: Simply clip the flowers at the base of their stems. Though edible, the stem is tougher and "woodier" in taste compared to the leaves.
How do you know when chives are ready to pick?
Begin harvesting your chives once they're about four to six inches tall. There is no set time as to when to begin harvesting; you can begin thirty days post transplanting or sixty days after seeding.
Will chives regrow after cutting?
Even if you accidentally cut back the entire plant during harvesting, it will still sprout the following year from the underground bulbs.
Should chives be allowed to flowers?
There is no harm in allowing your herbs to bloom, only that your harvest might be smaller. Most of the plants will develop smaller leaves when the flowers are left in.
How do you keep chives growing in the summer heat?
Chives are a cool-season crop; meaning they may go dormant in harsher temperatures of summer. Try cutting back the existing worn-out foliage, and water well. Place them in a well-lit spot, under some cover—on a sunny windowsill indoors, in a greenhouse, a cold frame, or a hoop house.
Maintain consistent moisture levels and you'll soon see your chives sprouting new leaves.
Do chives like the full sun?
Chives are sun lovers, although they can also tolerate a little shade.

How to Grow Chives in Your Herb Garden
Soil: Plant them in rich, moist, well-drained soil.
Consider working four or six inches of compost into your soil before planting or use a little organic fertilizer.
Spacing: Chives grow approximately twelve inches wide and tall; therefore, ensure the bulbs are at least five to six inches apart during planting.
Divide the bulbs every three or four years, so they keep multiplying.
Light: Though they grow almost anywhere, these herbs grow best in full sun. Consider placing them in a spot receiving at least six hours of sunlight a day—if growing them indoors.

Water: Chives are drought-tolerant once established; however, keep them consistently moist during the growing season.

Mulching: Mulch is a great moisture retention option especially if you can't keep up with the plant's regular watering needs. It also helps kill the weeds considering the shallow weed-susceptible roots.

Fertilizer: These herbs are not heavy feeders. Therefore, won't require frequent fertilization. However, you can offer a single top-dressing in early summer or late spring—with a nitrogen-heavy fertilizer.

Companion planting: They're shallow-rooted; carefully select what to grow around them.

Even weeds springing up nearby can easily out-compete them.
How to Dehydrate Chives
Chives are so very useful as a dried seasoning to keep in your pantry. The mild onion flavor adds a nice flavor to season meats, vegetables, or soups and stews. Fortunately, dehydrating this herb is super simple and doesn't even require an electric food dehydrator. You can dry them in your oven, just as easily.
Personally, I prefer to avoid drying anything overly pungent in my electric dehydrator. Besides that, I do dry these in small batches, so whenever a nice couple of handfuls are ready to harvest, it is easy to set up without the fuss of extra equipment.
Here are the steps to dehydrate chives, in a printable format.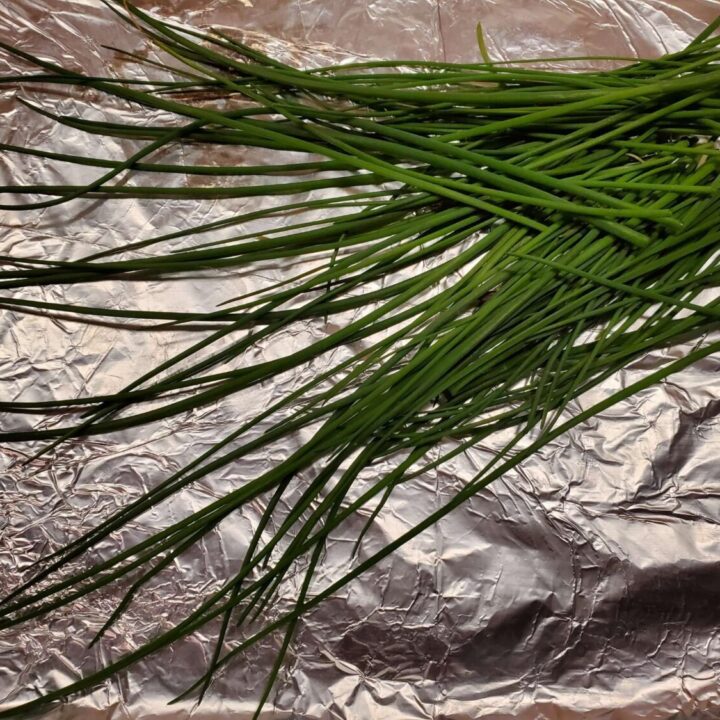 How to Dehydrate Chives in the Oven
Yield:
depends on the amount you harvest!
You can dehydrate chives and store them in your pantry for about six months. No special equipment needed, just your oven!
Materials
Chives
Baking sheet
Aluminum foil
Herb scissors
Instructions
Harvest your chives, rinse them under cold water, and pat them dry. Let them air dry for a few minutes on a towel.
Preheat your oven to 170°.
While you are letting the herbs dry well, line a cookie baking sheet with a sheet of aluminum foil. This makes it easier to "tip" the dried product out after it shrinks down and minimizes your clean-up effort.
Using the herb scissors, cut your chives into smallish sections--onto the foil-lined baking sheet.
Put the baking sheet into the oven. Prop the door open slightly to allow moisture to escape and speed drying time.
Set your timer for one hour. Dehydrating time varies depending on how much moisture is in the herb and how much humidity you have in your house. After an hour, set the timer for 30-minute intervals. They are done when they are completely dried and brittle, but they should still retain some green color.
Notes
Store your finished product in a tightly capped glass shaker for up to six months. Alternatively, you can also run it in the coffee grinder to make a chive powder.
How to Make Chive Seasoning Salt
You can level up and turn plain chives into a powder–and then into a savory seasoning salt. After dehydrating, put the dried herb into your coffee grinder. Give it a whirl until you have a powder.
Mix:
2 TBL. plain table salt
2-tsp. ground black pepper
2-tsp. ground powdered chives
This seasoning tastes diving on vegetables, potatoes, pork, chicken, or beef. Yum!
The Takeaway: Chives Are a Tasty Perennial Herb With Great Culinary Use
You can choose to either use them fresh or dry, though the herb tends to lose quite a bit of flavor when dried. The same applies to when you freeze them. However, for the best flavor, use chives fresh from the garden.