Violas, violets, and pansies are all part of the same beautiful family.
Imagine a grand family reunion held in an opulent mansion with hallways lined with portraits of ancestors and relatives, each radiating distinct charm and elegance. The Viola family is akin to such a distinguished lineage of regal individuals. Violas, violets, and pansies are like three closely related cousins. While each boasts unique features and personalities, their shared lineage is unmistakable – and gorgeous!
Like the nuanced differences between siblings or the shared laughter and stories between cousins, these botanical relatives, though individualistic, whisper secrets of their shared heritage, binding them in botanical nobility.
Gardening aficionados often find themselves captivated by the sheer diversity and beauty that the botanical realm presents. Among the pantheon of flowering plants, violas, violets, and pansies stand out as favorites, but they're frequently misunderstood or used interchangeably.
For the discerning gardener, understanding the nuances between these beauties is crucial. Let's venture into the natural world of these three plants and explore the evidence-based differences that make each of these gorgeous bedding plants so unique. But, of course, all so lovely!
Botanical Lineage of the Viola Genus
The taxonomy of plants is a rigorous study, laying the foundation for our understanding. At the heart of our subject lies the Viola genus, which is part of the Violaceae family. Both violets and pansies come under this genus, while the term 'viola' is more general, referring to the entire genus itself.
Violets (Viola species): There are somewhere between 525 and 600 species within the Viola genus, many of which are termed 'violets.' These primarily include perennials with heart-shaped, scalloped leaves. Violets typically sport flowers with five petals, whereas the two lateral petals often have a beard or tuft. Sweet violets (Viola odorata) are one such example, cherished for their fragrant blossoms.
Pansies (Viola x wittrockiana) are hybrids derived mainly from the Viola tricolor. Pansies are recognized for their vibrant colors, unique patterns, and broad, overlapping petals. The face-like appearance of their bloom is their most distinctive feature.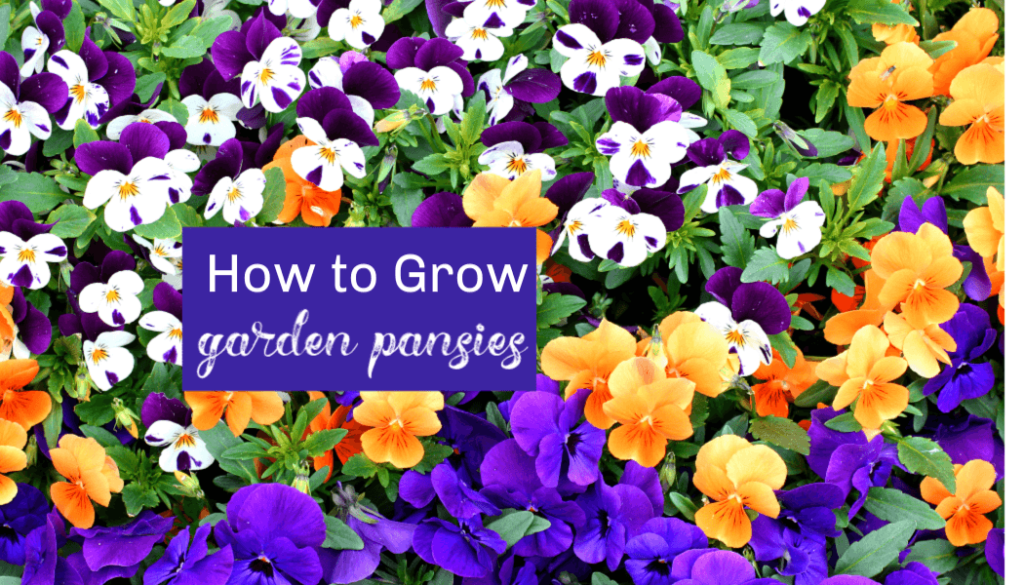 Morphological Distinctions of Viola
Flower Structure:
Violets: The blossoms tend to be smaller with a subtle charm. As mentioned, they exhibit a beard on their lateral petals, a unique feature absent in pansies.
Pansies: Their flowers are more prominent with a more flattened face. The broader petals are perfect canvases for your garden, due to the wild array of colors and patterns, from solid hues to multicolored streaks.
Leaves:
Violets: Leaves are generally heart-shaped, with a scalloped edge. They can often be hairy and are mostly found in a basal rosette.
Pansies: Their leaves are typically more rounded with a slightly serrated edge.
Color and Pattern Variance
Violets: Although the name suggests a purple hue, violets can come in a range from blue and purple to white and even yellow. The coloration is generally uniform.
Pansies: Their color spectrum is vast. From deep purples to sunny yellows, fiery oranges, and pristine whites, often with contrasting color combinations and intricate patterns.
Cultural Significance and Usage
Violets: Historically symbolizing modesty and loyalty, violets have been featured in various literary and artistic works. Their subtle fragrance finds its way into perfumes and even culinary dishes.
Pansies: Representing thoughtfulness and remembrance, pansies are often present in Victorian literature. Their edible flowers make attractive garnishes, lending both flavor and aesthetics to dishes.
Viola
USDA Planting Zones:
Most violas are hardy in zones 4-8, though this can vary based on species.
Soil pH:
Violas prefer slightly acidic to neutral soil, around 6.0 to 7.5.
Bloom Time:
Typically, in spring, although some varieties may bloom again in the fall.
Planting and Care:
Planting: Choose a location with partial to full sun. However, in hotter climates, partial shade will help prevent the plants from wilting.
Watering: Maintain consistently moist soil but avoid waterlogging.
Feeding: Use a balanced liquid fertilizer every 4 weeks during the growing season.
Pruning: Deadhead faded flowers to encourage more blooms.
Pests: Watch out for aphids and slugs.
Violets (e.g., Viola odorata)
USDA Planting Zones:
Soil pH:
Preferably slightly acidic to neutral, 6.0 to 7.0.
Bloom Time:
Planting and Care:
Planting: Violets thrive in partial shade.
Watering: Maintain evenly moist soil.
Feeding: A balanced, slow-release fertilizer applied in spring should suffice.
Pruning: Deadhead regularly promotes more blooms.
Pests: Susceptible to aphids, red spider mites, and violet leaf midge.
Pansies (Viola x wittrockiana)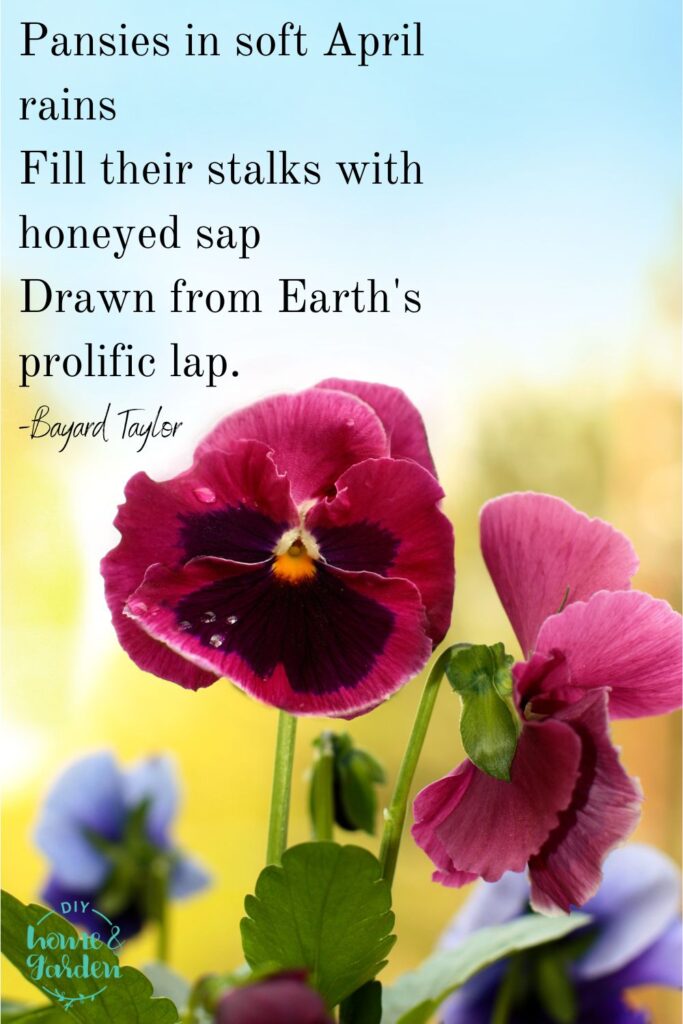 USDA Planting Zones:
Typically treated as annuals but can be hardy in zones 6-10.
Soil pH:
Neutral to slightly acidic, ideally between 6.0 and 6.5.
Bloom Time:
Spring and fall. In milder climates, they can bloom throughout the winter.
Planting and Care:
Planting: Prefers full to partial sunlight.
Watering: Water regularly to moisten the soil, especially in drier conditions.
Feeding: A balanced, liquid fertilizer every two to three weeks during the growing season is beneficial.
Pruning: Regularly deadhead spent flowers to encourage prolonged blooming.
Pests: Watch for aphids, slugs, and snails.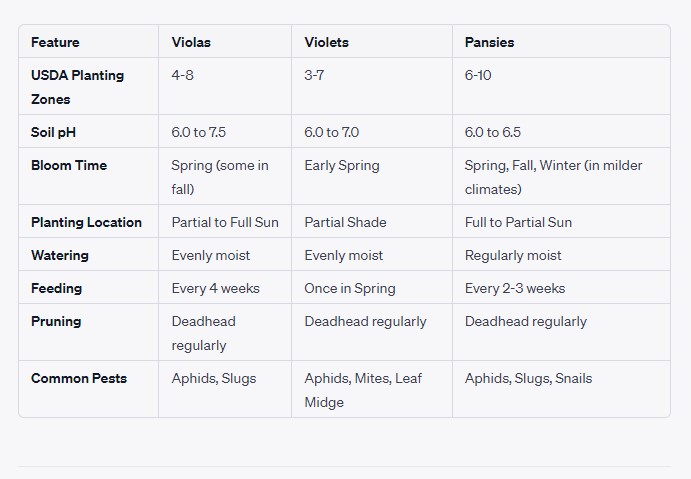 The Takeaway: Violas, Violets, and Pansies Come From a Beautiful Family
While violas, violets, and pansies might be intricately related, understanding the botanical lineage, morphological differences, and cultural nuances can deepen one's appreciation for these floral wonders. As we navigate through our gardens, let's remember that every petal tells a story, every scent evokes a memory, and every plant, no matter how similar, holds its unique place in the tapestry of nature. Happy gardening!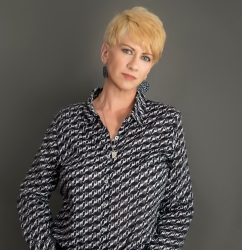 Latest posts by Deborah T
(see all)