Like father like son…you say. AND why not make it "like Sun like the sunflowers?" Funny…
Taking after their dear source of joy (the sun), sunflowers also strive to brighten up every single space they're made to stand by their bright colored heads that range from yellow, to orange to red, and to the striped ones. Though yellow is their typical color.
They also come in different sizes including the dwarf variety, which grows less than a meter upwards and the giants that grow over 3.5 meters high, and produce flowers measuring up to 50 cm wide.
Sunflowers are easy to grow and care for; with only a few easy-to-follow basics that work perfectly well even for beginners.
Their benefit to the garden is almost immeasurable, which is one of the reasons why you should have them in your garden.
So, just how do they benefit your garden?
Nine incredible benefits of adding sunflowers to a garden
Why do we plant sunflowers? Here are nine compelling reasons why.
1. Detoxify garden soil
Soil is prone to contamination, and sometimes it's the dreaded heavy metals that sit therein.
To easily detoxify your garden soil, simply grow these sun lovers. They absorb the toxic heavy metal contaminants (including arsenic, zinc, lead, manganese, and copper) leaving your soil healthier.
2. Help condition the soil
Their firm-standing tall stalks (aided by their deep rooting system)—when allowed to die in place helps boost the organic content and water holding capacity of your soil; which all, in the long run, work to the advantage of your garden—making it more drought-tolerant.
3. Attract birds
Birds, naturally, are gifted insect managers. They ensure a perfect balance of the pest insects and the beneficial ones. Having sunflowers in your garden is the surest way to attract birds and have them do the job—manage insects.
Note that the same birds may also become a nuisance when they begin feeding on your sunflower seeds. It's a double-edged sword. But if you love feeding the birds, this plant is for you!
However, to ensure their good work of insect management, plant a generous amount of sunflowers so that they also get a portion to feed on.
Find that special kind of joy in nature as you watch the birds feed from your hands.
4. Suitable for companion planting
Grow your cucumbers, sweetcorn, melons, and squash alongside the sunflowers, BUT not anywhere near potatoes or beans—this is to avoid the potential effect of the toxins emitted by the sunflower plant(s).
5. Attract beneficial insects like the bees
Sunflowers offer a healthy source of pollen and nectar to the bees; thereby, luring them into your garden. Well, bees are highly qualified pollinators—you know.
The result? Improved overall pollination of your vegetables and fruits, which is a great and easy way to boost your farm produce.
Other sunflower benefits include:
6. Can be used as cut flowers
Sunflowers are easy to grow and care for; with only a few easy-to-follow basics that work perfectly well even for beginners. That flower is also popular among florists for creating floral arrangements. Check this out to see examples of what floral arrangements you can create having your own sunflowers in the garden.
With their stunning blooms, sunflowers definitely extend their warmth, beauty, and shine to your indoor space; lifting your moods even amidst stressful situations.
Consider harvesting the flowers as soon as they're fully developed and open. Remember this is only if you're picking the sunflowers for a vase. Cut the stems early in the morning to prevent the flower from holding the heat from the sun; which in turn also helps to prolong their lifespan. Dip them in the vase of water as soon as you can.
Use either of the below two vase solutions to keep the flowers looking their best:
i) Lemon juice mixture
Ingredients: 2 tablespoons lemon juice (possibly fresh or bottled), ¼ teaspoon household bleach, 1-quart warm water, and 1tablespoon sugar.
ii) Lemon-lime soda mixture
Ingredients: ¼ teaspoon household bleach, 3 parts of warm water, and 1 part lemon-lime soda.
7. Edible seeds
Sunflower seeds are rich in vitamin E; the primary fat-soluble antioxidant—very much needed by your body to help neutralize the free radicals; thus protecting your cell membranes and brain cells from damage.
Vitamin E also exhibits anti-inflammatory properties that help suppress asthma, rheumatoid arthritis, and osteoarthritis symptoms—conditions often triggered by free radicals and inflammation.
It has also been shown that Vitamin E, as well, helps reduce the frequency and severity of hot flashes in women in their menopause. Plus, it reduces the chances of developing diabetic complications.
Note: Sunflower seeds are calorie-dense and may bring about unwanted side effects if consumed in large quantities. Fecal impaction or simply stool impaction is one of such effects.
8. Can be used as alternative cooking oil
Ever tried sunflower cooking oil? Well, you should if you haven't yet. It's a rich source of mono-unsaturated and poly-unsaturated fats and comes loaded with omega 6 fats and vitamin E; all of which are good for the well-being of your heart.
The oil is mostly made from the black sunflower seed variety; however, both the grey-striped and black seeds still benefit your health and well-being.
9. Used as a carrier oil
Sunflower's dense collection of minerals and vitamins makes it a great product for the skin. It revitalizes conditions and leaves your skin feeling soft.
It's widely used in the massage and aromatherapy industry. It's pressed into a fantastic carrier oil that is safe for all skin types. Because of the Vitamin E content, it's great for hair and nails, too!
Admittedly, most home gardeners do not press their own sunflower oil. But if you are up to purchasing the equipment and giving it a go you're in for a real treat!
How to grow sunflowers from seeds
Sunflowers do well in almost any soil type—be it clay, loamy, sandy, or silt. Just ensure that the soil isn't waterlogged.
You have the option to start your sunflowers indoors in the individual peat pots; however, it's a lot easier to sow the seeds directly into the soil once all the danger of spring frost is gone.
And so, to begin with:
Choose and prepare your preferred planting site. Remember sunflowers require long, hot summers to bloom perfectly well, and so it would be prudent if the location allows for full sun exposure. The flowers require direct sunlight of about 6-8 hours a day.
Work on the soil to ensure it's well-dug and loose enough to allow the plants to spread out their long taproots.
Sunflowers rarely need any soil nutrient tweaking as they can simply do with any average garden soil. However, you may need to pump in some extra nutrients to the soil in case you intend to plant the giant variety. This group of sunflowers requires more nutrients.
Slightly acidic soil with a pH value of between 6.0 and 7.5 is good enough. You can do some home soil tests to ascertain the values of your soil.
Planting your sunflower seeds
Sow your seeds 1 inch deep and 6 inches (15 cm) apart. In the holes or trenches, have only one seed in. You may want to increase the planting depth from 1 inch (2.5 cm) to 5 cm if you're working with loose and sandy soil.
There is no harm in doing 30 cm or even 45 cm (for the giant varieties) apart in spacing if you don't intend to thin them out.
Cover the seeds and water regularly until the seeds sprout—in about 7-10 days.
If you intend to thin, do it when the second leaves' set appears—the true leaves. Thin close to 2 ft. apart.
To enjoy continuous blooms until the first frost, sow a new row of sunflower seeds every 2 or 3 weeks.
Sunflowers take around 80-120 days (depending on your preferred variety) to fully mature and develop seeds.
Where Do Sunflowers Grow Best?
As the name implies, these bright, beautiful flowers adore nothing more than turning their sunny faces into the full sunshine. Put them in a full sun location; they do not prefer the shade.
Are Sunflowers Easy to Grow?
As long as you follow a few common-sense care guidelines, you should have no problem growing these happy flowers.
Watering
Initially, sunflowers may require a lot of water during the germination stage; however, this reduces to an inch per week in the growth period to help prevent them from rotting.
Regular watering (which should, of course, be deep enough to cover at least the top-most 6 inch part of your soil) helps enhance the development of a good root system while also promoting healthy blooms.
Staking
Not all sunflower varieties require staking. However, it just makes sense to offer your plants some support, and especially those that grow up to (or sometimes over) 3 ft. tall.
It provides them the much-needed support for their heavy-grown heads. Plus, it's a great way to protect the plants from high winds and other threatening factors like the rain.
Control weeds and pests
Unless you decide to till, hoe, or literally pull out the weeds, you'll want to lay down a 10cm layer of mulch around the plants to help prevent the growth of weeds.
Spreading around some slug and snail pellets also ensure these pests don't eat up the seeds during the germination stage.
To easily control disease outbreak, ensure proper plant spacing and well-draining soil.
Pruning
Prune at 10cm below the plants' heads if you intend to use the seeds for re-planting. The seeds should then be removable with a fork.
Can You Grow Sunflowers in Pots?
Yes, you can grow sunflowers in pots, especially if you choose a hybrid variant that will remain around four feet high (or less). You must choose an appropriately large pot, provide staking to assist it, and find a full sun location.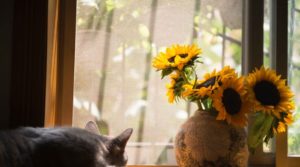 When Do Sunflowers Bloom?
Sunflowers take between eight to twelve weeks after you plant them and then show off their beautiful blooms. Depending on your USDA growing zone, this can mean as early as July. In some areas, they continue to flourish until October. With proper care, they will put on a show in your garden for several weeks.
What Does the Sunflower Mean?
The sunflower signifies different things, especially across various cultures. Here are a few meanings:
In romantic love, the sunflower represents strong bonds, as shown by the sturdy, robust stem. However, it also represents platonic love to a friend or relative.
Also, this sunny flower represents a long life, as the tall bloom stands tall for weeks and weeks during the most brutal heat of the summer.
In addition, the sunflower signifies abundance, as we take in the delicious edible seeds to nourish our bodies.
Sunflowers also represent happiness or a good mood, with their cheerful sunny faces.
In Chinese culture, this flower signifies good fortune and happiness in life.
What Does It Mean if a Guy Gives You a Sunflower?
If someone gives you a sunflower, it shows that they like you and care about you. Most likely, they want to get to know you better to see if you are compatible for a romance.
Do Sunflowers Bring Good Luck?
In some cultures, the sunflower represents good luck. Whether it actually brings good luck…well, that's up for debate. Many people reject the notion on luck. But if you believe it and love their sunny appearance, feel free to adopt the sunflower as your own personal charm.
The Takeaway on the Incredible Benefits of Sunflowers
Here is what to also consider before planting your sunflowers.
The kind of plants you'd like to have around or near the flowers. Most sunflower varieties grow tall, and may, therefore, end up casting shade on the other plants.
Your growth purpose. Why are you growing sunflowers in the first place? If it's for maximum seed production, then you want to grow the traditional and tall seed-producing species like Super Snack Hybrid, Aztec Gold Hybrid, Paul Bunyan Hybrid or Mammoth.
The spacing (between the rows) here should, therefore, be two to three ft.
If you're growing for smaller flowers to be used as bouquets, then space much closer together. No need to fertilize. You'll eventually end up with your desired small plants with long stems and flower heads that just suit their decoration purpose.