A plastic drum can serve a useful purpose in every garden.
Let's address an elephant in the room, right up front. We know–the whole world seems to hate plastic these days. But we cannot deny that it's already circulating in our communities. So why not recycle, reuse, and repurpose plastic barrels whenever you can lay your hands on them?
Putting plastic drums to good use around your homestead or garden increases the life cycle and keeps them from going to the landfill for decades.
While you can purchase plastic drums online, they cost rather a lot. So it's even better if you find one for FREE waiting to be recycled. Here's the problem with finding them locally–many people know where to find these plastic drums, but they are secretive about telling where to find them. That's because the folks who locate them often want to keep them to themselves to make stuff and sell it.
We recently made two vertical deer feeding systems out of a plastic barrel. Once we found an available barrel, we had to drive rather far to pick them up. However, the person who had them only charged us $5 per barrel. All in all, it was far less costly to make our own deer feeders versus purchasing expensive units from an online retailer. (Note: my hubby dragged these out into the field before I could take images. When hunting season ends in two weeks and they come home, I will add images to this post for you to see how he made them).
Where to Inquire About 55-Gallon Plastic Drum Availability
Of course, you must locate the units before you can make one of the plastic barrel projects we will share, so let's start at the beginning. We will share our research on a few places that you can call to inquire about whether they have barrels available for free or at an affordable price. The most common size is the 55-gallon drum. However, you might also find some variations, particularly 30 and 44-gallon sizes. You can adapt any project to the size you find.
Also, be aware of what the plastic drums contained before you purchase them. Some might contain the residue of solvents or chemicals. For instance, a person who has asthma might not want to grab one of these. Instead, food-grade barrels are the best…if you can find them.
Facebook Marketplace or your local Craigslist community: These barrels are bulky, and some locations just want them gone due to space limitations. You might be able to snap one up if you are lucky (and see them first!).
Breweries, wineries, or distilleries: Some of the ingredients used by distilleries and breweries might arrive at their facility in these sturdy containers. Bonus: They will be food-grade, free of hazardous chemicals.
Food manufacturers: The 55-gallon drums we purchased came from an employee of a pickle manufacturer. They allow employees to take them home for personal benefit.
Commercial car washes or large volume automotive dealers: Car wash solvents and chemicals often ship to commercial, high-volume car washes in plastic or metal 55-gallon drums. So when you contact them, be sure to ask if metal or plastic.
Post a "wanted" ad on social media: Also, don't forget that you can make a "wanted" post on your own social media–Facebook Marketplace, in trade/sell groups, etc. Ask people to send you a private message and be clear on what you need.
Ten Useful Projects Made from a 55-Gallon Plastic Drum
Now that you have an idea of how to find plastic barrels, let's look at some excellent uses around your garden, homestead, or yard. These inspiring ideas from Pinterest and YouTube should spark some interesting ideas of your own.
1 – Make an automatic livestock watering system
This automatic livestock waterer keeps the chickens healthy and hydrated with minimal fuss. Although this project is specifically a "chicken waterer," you could adapt it to other livestock as well.
2 – Make colorful half-barrel planters for gardening
This creative soul cut the plastic barrels in half and spray-painted them in fun colors. What an eye-popping and beautiful container gardening system this creates. 
3 – Create a compost tumbler out of a 55-gallon plastic drum
We have posted about the benefits of composting several times in the past. So of course we had to share this 55-gallon compost tumbler. This project takes a few more tool skills, but it's well worth the time for the gardening buff.
4 – Skip the expensive "whiskey barrel planter" at the gardening store and make your own
Those charming whiskey barrel planters add charm to any spot in the landscape. But the price tag can put you off after you see it! So why not make a copycat out of a plastic drum and scrap wood that you have remaining from other projects?
5 – Weatherproof garden seating made from a plastic drum
If you live in a rainy climate, you know the challenge of outdoor furniture. It seems like you can't find a dry seat because the cushions retain the water–or they get green with mildew. Instead, fabricate this durable seat that you can wipe dry with an old towel after a shower. No more wet pants!
6 – Craft a raised bed herb garden
This blogger and homesteader cut two plastic barrels in half, lengthwise, to create a four-compartment raised bed herb garden. I plan to make this for my new greenhouse (which I'll be sharing in the spring). When we build this, we will put it on small wheels. That will enable us to start the herbs in the greenhouse at the end of winter then roll it out into the sun to harden the plants when the time is right. Clever, no?
7 – Floating dock constructed from 55-gallon plastic drums
Although I don't live waterfront and thus not my expertise, this idea's worth sharing for those of you who are. If you are on a river or even have a large pond or river access on your property, this could be fun to build.
8 – Grow strawberries in a customized vertical planter
Strawberries thrive in a vertical planter, well-placed in a nice, sunny spot. Using vertical planters maximized garden space. That means even those with a smaller yard can grow large amounts of berries in a teeny little space. This would be well worth a try.
9 – Build a water catchment system (if permitted in your state)
I live in North Carolina where it is currently legal at state level to catch rainwater (some local governments restrict this). We have long, hot, and during some years, very dry summer months. Catching rainwater to conserve water during drought conditions can help you keep your plants watered, even if water restrictions go into effect. A system like this one has saved my garden more than one summertime when I lived near Raleigh and they implemented county-wide watering bans. Fortunately, I moved way out to the country now, where they generally don't put such restrictions in place.
Check with your local and state governments or an attorney before you build a water catchment system–fees and fines can be very costly!
10 – Build a plastic drum "race car" for the kiddos!
Outdoor time doesn't need to be all work and no play. You can spend quality time with the little ones building a car out of a plastic barrel. If you homeschool your kids, this can be a whole lesson on measuring and the science of engineering! If your kids attend public school, this project would help reinforce learning concepts. Regardless, it's a fun project and the littles will have hours and hours of playtime!
How to Paint a 55-Gallon Plastic Drum
Most plastic drums will come in blue or charcoal color. If you want to make things more colorful, you can change the color with spray paint. However, you must choose a formula that says it will adhere to plastics.
Although it's a fairly large surface, stick with the general technique of applying the paint in several lighter coats, with a short drying period between each one. Check the can for the exact drying time. Finally, be patient and allow the paint to cure fully before you attempt to craft your project.
The Takeaway: You Can Use a Plastic Drum for Many Things Around a Homestead or Your Garden
If you homestead or garden, then you are always looking for new and innovative ideas. Give these plastic drum ideas a try, and please connect with us on social media to tell us how they work out for you. We always love to hear. Until then, have a happy DIY day.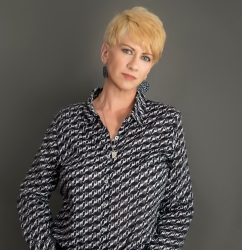 Latest posts by Deborah T
(see all)