The colorful, tall larkspur comes in a stunning array of colors.
There's a certain magic in the garden when you see a majestic Delphinium in bloom. Delphiniums have long been a favorite among gardening enthusiasts and professionals alike, rising like verdant skyscrapers crowned with radiant blooms. Join us on an in-depth exploration of this magnificent genus, revealing all its secrets, from botanic science to cultivation techniques.
Delphinium Plant Profile
Delphinium, a member of the Ranunculaceae family, is known for its towering spikes of brilliant flowers in colors ranging from the deepest purples and blues to vibrant pinks, whites, and even yellows in some species. This showy perennial is native to the temperate zones of the Northern Hemisphere, with its highest species diversity in the mountainous regions of tropical Africa.
There are about 300 species of Delphinium, but the ones we commonly cultivate in our gardens are usually hybrids, collectively called Delphinium x elatum. These cultivars are bred for their robustness, color variety, and disease resistance.
The Science of the Delphinium
Delphinium's botanical classification reveals its intricate ties to the natural world. Its lifecycle is a testament to the ingenious strategies of plant propagation. Delphiniums are a symphony of natural processes from a tiny seed to impressive bloom and back to seed again. They rely on pollinators, particularly bees and butterflies, who are attracted to their nectar and vibrant colors, thereby aiding their cross-pollination.
USDA Growing Zones for the Larkspur
Delphiniums, commonly known as Larkspur, are a staple in many temperate gardens. They thrive the most in the USDA Hardiness Zones 3 through 7, although some species and hybrids can adapt to conditions in Zone 8. This range reflects their preference for cooler climates, with moist summers and mild winters.
It's important to note that Delphiniums' performance can still vary depending on specific garden microclimates, soil conditions, and care practices within these zones. So while the USDA Hardiness Zones provide a helpful guideline, successful Delphinium cultivation also requires attentive gardening and an understanding of your local conditions.
Growing Delphiniums
Delphiniums flourish best in climates with cool, moist summers and relatively mild winters. These plants are fastidious about their soil – well-draining and rich in organic matter is the key. They require full sun to partial shade, regular watering, and a balanced fertilizer during the growing season.
Given their height, Delphiniums often require staking, especially in areas prone to strong winds and rain. A stake helps protect the tall flower spikes and prevents them from snapping or being blown over.
Unfortunately, Delphiniums are susceptible to a few diseases, such as powdery mildew, crown rot, and pests like slugs and aphids.
Maintaining good air circulation, proper watering techniques and organic pest control methods can help keep these issues at bay. Moreover, annual pruning and preparing Delphiniums for winter will ensure they return with vigor in the spring.
Breeding and Propagation of Delphiniums
A gardener with some adventurous spirit might try propagating Delphiniums from cuttings or engaging in a little amateur hybridization. This cross-pollination can result in new, exciting Delphinium hybrids and contributes to the genetic diversity of your garden population, enhancing its resilience.
Delphiniums in the Landscape
Despite their height, Delphiniums are surprisingly versatile in the landscape. They can serve as a dramatic backdrop in flower beds or as the centerpiece in island gardens. Companion planting with roses, peonies, or foxgloves can create a breathtaking garden tableau. Delphiniums can also thrive in containers, providing vertical interest to balcony and patio gardens.
Delphiniums, with their towering stature and vibrant hues, offer versatile applications in garden design.
How to Use Larkspurs in Your Gardens
Here are six lovely ways you can incorporate these stunning plants into your outdoor space:
Centerpiece in Island Beds: Delphiniums can make an excellent centerpiece in island beds due to their height and showy blooms. Plant them in the middle, with lower-growing plants around them, for a vibrant and dynamic display.
Back of the Border: Delphiniums are perfect for the back of a border or flower bed, where they can tower above lower-growing plants. This placement allows the full height of their flower spikes to be appreciated without obscuring the plants in front of them.
Along Fences or Walls: You can plant Delphiniums along fences or garden walls. This positioning provides a colorful backdrop and gives these tall plants some protection against strong winds, which can be detrimental.
Cottage Garden Classic: Delphiniums are a staple in traditional English cottage gardens. Pair them with roses, foxgloves, hollyhocks, and lavender for a nostalgic and romantic garden scene.
Container Gardening: Although Delphiniums are large plants, dwarf varieties can flourish in large pots or containers. A large, colorful pot is perfect for adding vertical interest to your patio or balcony garden.
Cut Flower Garden: Delphiniums are popular cut flowers, thanks to their long stems and vibrant colors. If you love fresh-cut flowers in your home, dedicate a section of your garden to Delphiniums. Remember to cut the flowers early in the morning and place them in water immediately for the most extended vase life.
These are just a few inspiring ideas for working Delphiniums into your garden. However, the sky is the limit regarding these sky-scraping blooms. Get creative, and let this flower's natural beauty inspire your garden design.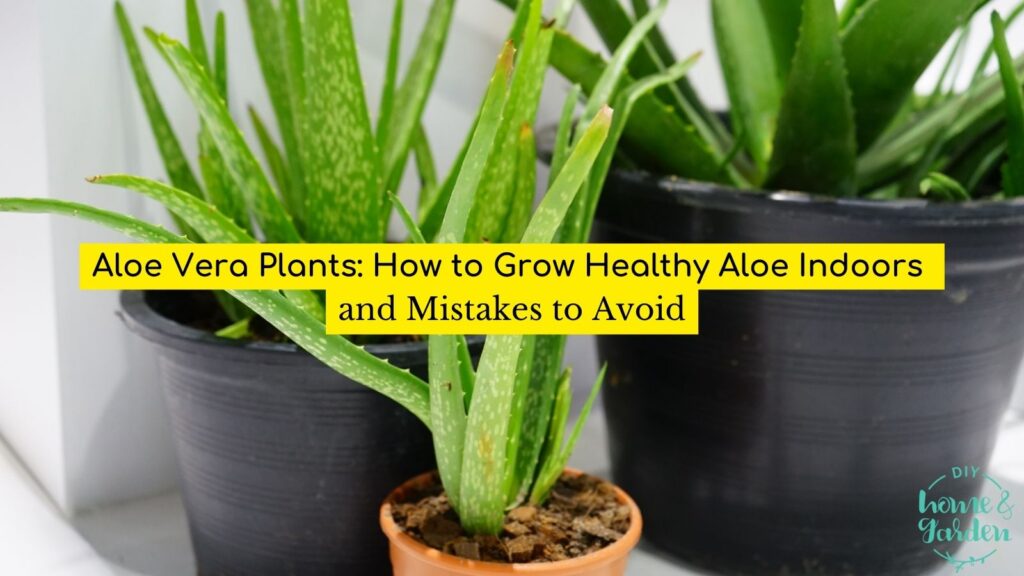 Delphiniums and Wildlife (Toxicity Warning!)
Beyond their ornamental beauty, Delphiniums play a part in local ecosystems, attracting pollinators and providing habitat for beneficial insects. However, due to the presence of alkaloids, they are toxic if ingested by pets and livestock, making it crucial to place them thoughtfully in the landscape.
All parts of Delphinium plants are considered toxic due to the various alkaloids they contain. If ingested, they may cause nausea, twitching muscles, paralysis, or even death in severe cases. While they're generally safe around pets and children, provided they're not consumed. Sitll, it is important to be aware of this fact and plan accordingly.
On the other hand, Delphiniums can be a great choice if you're dealing with deer in your garden. Their toxicity generally makes them deer-resistant, a trait highly appreciated by gardeners in rural areas or where deer are prevalent.
Pollinators Will Visit Your Larkspur and Promote Pollination
Delphiniums are a favorite among several pollinators thanks to their bright, showy blooms and nectar-rich flowers. Here are some of the pollinators you can expect to see visiting your Delphiniums:
Bees: Delphiniums are particularly popular with bees. Both honey bees and various species of wild bees frequent these flowers. The petals' ultraviolet patterns, visible to bees but not to human eyes, guide them to the nectar source.
Butterflies: The large, open flowers of Delphiniums provide an easy landing platform for butterflies. The vibrant colors and nectar-rich blooms attract them.
Hummingbirds: In regions where hummingbirds flitter about, they are also likely visitors. Delphiniums' tubular flowers are a good fit for these birds' long, slender beaks.
Moths: Some Delphinium species release a more potent scent in the evening to attract moths, which are night-time pollinators. Moths particularly prefer light-colored flowers, which stand in vibrant contrast to the night sky.
While these pollinators contribute to the life cycle of the Delphinium by helping with cross-pollination, they also play crucial roles in wider biodiversity, making Delphiniums a great addition to any insect-friendly garden.
The Delphinium in Culture and Symbolism
Delphiniums symbolize levity, fun, and big-heartedness in the language of flowers. Their stunning beauty has inspired artists and writers throughout history, and they have found a place in many cultural celebrations and traditions.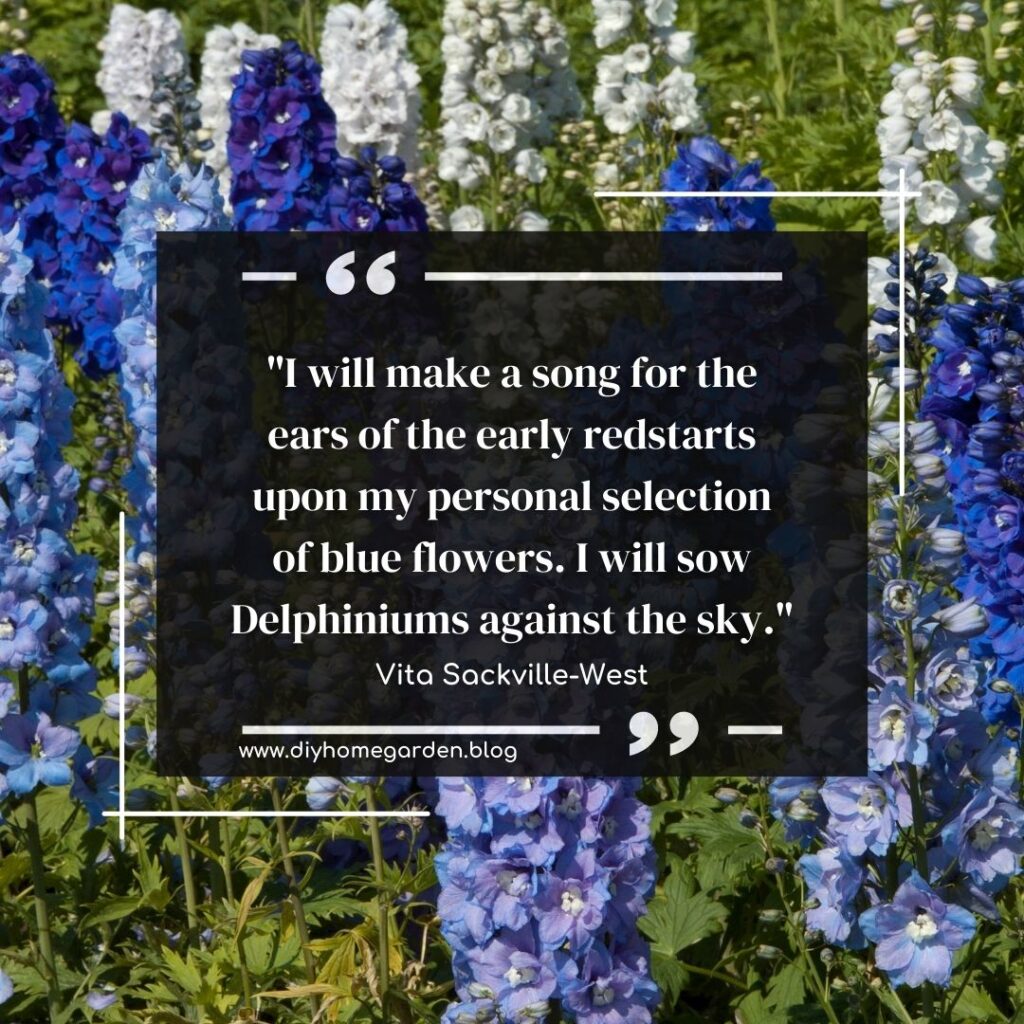 The Takeaway: The Delphinium or Larkspur Is a Soaring Giant Flower
The enduring allure of Delphiniums lies not only in their sky-scraping beauty but also in their captivating journey from seed to bloom. Their generous color palette, multifaceted role in ecosystems, and compelling cultural narratives all contribute to their appeal. Cultivating Delphiniums is both an art and a science – a testament to the endless marvels of the botanical world and the rich rewards of patient and knowledgeable gardening.
As you sow your seeds or plant your young Delphiniums, you'll join the ranks of countless generations of gardeners captivated by these plants. It's a challenging and fulfilling journey, and seeing your garden filled with towering, blooming Delphiniums will be a rewarding endpoint.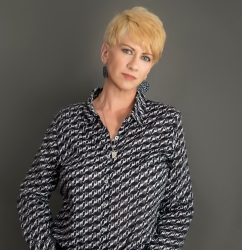 Latest posts by Deborah T
(see all)